Beautiful 9 times table worksheets for Grade 2, 3 or 4!
No sign up needed. Download straight away with no stress!
Help your child master their multiplication and have fun at the same time
We've got nine different 9 times table worksheets for you. Everything from multiple choice to coloring.  Each one is downloadable in PDF.
All our worksheets are designed by a professional children's illustrator and a former teacher who are passionate about children's education...they're all free because we care about creating a quality learning experience for all... especially in schools with less funding, and families with less disposable income.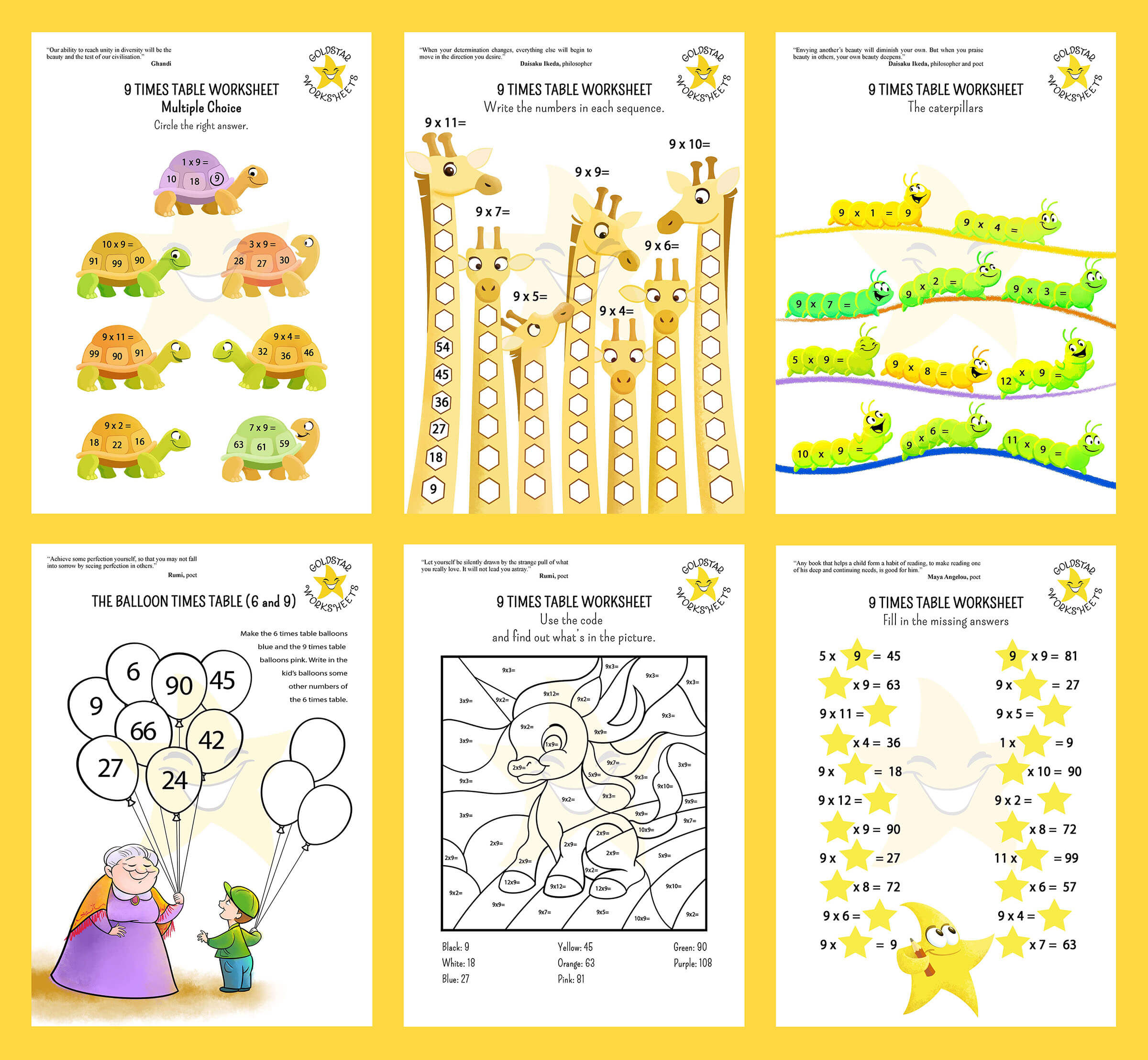 Once you're satisfied with your kids progress in multiplying by 9, how about checking and downloading our 12 times table worksheets and 7 times table worksheets? They are, not always, but most often the next in line. 
Working through a selection of the sheets below will help your child grow in their math confidence and will make future math more enjoyable. 
Worksheets Order
Draw a line from the 9 times table multiplication problems to the correct answers
Answer the sums and color in the picture - what will they discover?
Learn to multiply through repeated adding - using friendly Giraffes
More practice with these colorful flowers this time
Use the process of elimination with multiple choice problems 
Multiplication fun with caterpillars 
Practice multiplication by helping a frog
A basic list of missing answer problems 
Finally, 2 lists of sums, in order and mixed up
1. Help the moon by drawing a line to the correct answers
The worksheet will test your students multiplication skills. It's a good beginner worksheet because the fewer stars there are left, the easier it is to choose the correct answer. Also wiley kids can pick off the easier problems first to make the more challenging ones less so... All the while they will be solidifying their knowledge.
2. Coloring 
Using the code students can find out which colors to use to bring the picture to life. Math combined with coloring... time to build focus and concentration skills.
3. The Giraffes - Multiplication as repeated adding
The child in me loves this printable. Add a little fun to learning math by doing it with a tower of exotic giraffes. Sure it's an relatively easy one because once you've done the tallest one you've done them all, but it's growing and deepening understanding all the time.
4. Flowers
A bit of tweak to keep things interesting and keep the mind awake... the sums are printed on flowers in this beautiful 9 times table worksheet.
5. Multiple Choice
Which one is it one most likely to be? Even if the answer doesn't jump out at your students they can have an educated guess. That makes this an ideal 9 times table beginner worksheet. 
6. Caterpillar Problems 
It's math party time with these joyful caterpillars. It's infectious! 
7. Frog worksheet
Ready to make multiplication fun? Help the frog jump on the lily pads in the 9 times table.
8. Fill in the missing 9 times table answers
Of all the 9 times table worksheets on this page, this one is the most challenging and should be done last. That's because students need to be able to fill in the first part of the sum, the 2nd part, and the answer, requiring the most flexibility of multiplication thinking. 
9. Two lists of multiplication problems
Click on the image to download the worksheet you want below. 
Did your child like these 9 times table worksheets? Which got the best reaction?
We love to hear your feedback. Please share your thoughts in the comments below :-)
Next, you might be interested in...
Positive psychology questions for you and your kids today
What most energises you? or
What gives you with energy? 
Paper Saving Tip
How about laminating these worksheets so you can use them again and again? Simply use a dry-erase marker and wipe off after use with a wet cloth. Great for the classroom, home-schooling, or for lots of practice at home.
We appreciate that schools around the world all work in different ways, at different paces, and do things in different orders. We acknowledge that many different ways of learning can work well, different approaches being more suitable in different cultures and contexts.  We believe that sooner is not better than later, and faster is not better than slower. We wish to support everyone in the way they work so if you work differently and we can help, please do get in touch. 
---