Free Printable 5 Times Table Worksheets
These 5 times table worksheets are for anyone who is supporting grade 2, grade 3 or grade 4 children in their multiplication skills during elementary math.
If your little one's have completed their 1's and 2's, it's time for them to take on 5's!
More information below about these multiplying by 5 worksheets and how to use them. 
All our worksheets are designed by a children's illustrator, and a teacher/psychologist...they're all free because we're committed to closing the equality gap in children's education.
More information about these free 5 times table worksheets
BASIC details
Variety of exercises including multiple choice, color by product, matching, missing answers, skip counting, and sequencing. Also multiple creative ways of introducing multiplication sums. 
Usual Age: 7-10 years 
Usual Grades: 2-4 
Ink Saving: Available in color or black and white if you want to save on ink 
When to use
Possible uses include:
To give as homework

Part of a math lesson

Extra practice at home or during holidays

Checking retention of past learning

Home-schooling

To check current level of students 

To give to parents who want to see what kind of work is being done 

To give to supply teachers
To pass on to a new teacher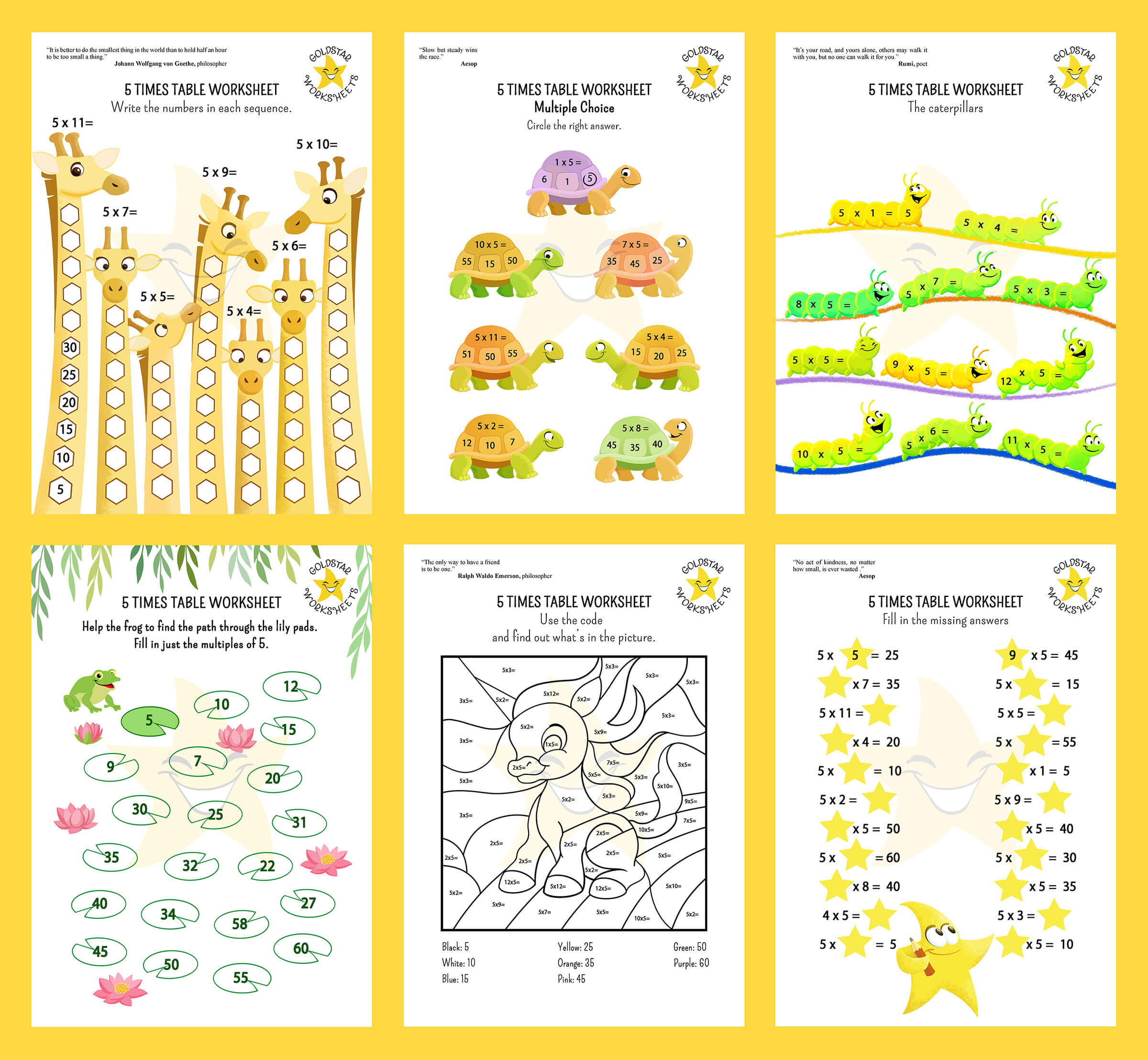 qualities
We have tried to combine various qualities together to make a positive math experience more likely for all children. 
Designed by professional graphic designer and a former teacher
Imagery that engages and interests young children
Memorable activities to help with retention
Encouraging words from great educators and historical figures to help learning
Free for all with no sign up required
Black and white versions can also be used to color in 
What comes after the 5 times table?
Sometimes before and sometimes after learning to multiply by 5, children do their 10 times tables. Download worksheets for the 10 times table to get ready for that next level. After that is most often multiplying by 3's and 4's. 
Best of luck to you little ones! 
Paper Saving Tip
How about laminating these worksheets so you can use them again and again? Simply use a dry-erase marker and wipe off after use with a wet cloth. Great for the classroom, home-schooling, or for lots of practice at home.
We appreciate that schools around the world all work in different ways, at different paces, and do things in different orders. We acknowledge that many different ways of learning can work well, different approaches being more suitable in different cultures and contexts.  We believe that sooner is not better than later, and faster is not better than slower. We wish to support everyone in the way they work so if you work differently and we can help, please do get in touch. 
---