Free 2 Times Table Worksheets (High Quality and Printable)
Check out our beautiful variety of PDF worksheets!
Are you looking for some nice looking 2 times table worksheets? Typically done in third grade but sometimes in 2nd and 4th grades, we hope these worksheets give your children a positive math experience.
Each multiplication worksheet below lets your kids explore the 2 times table in a different way.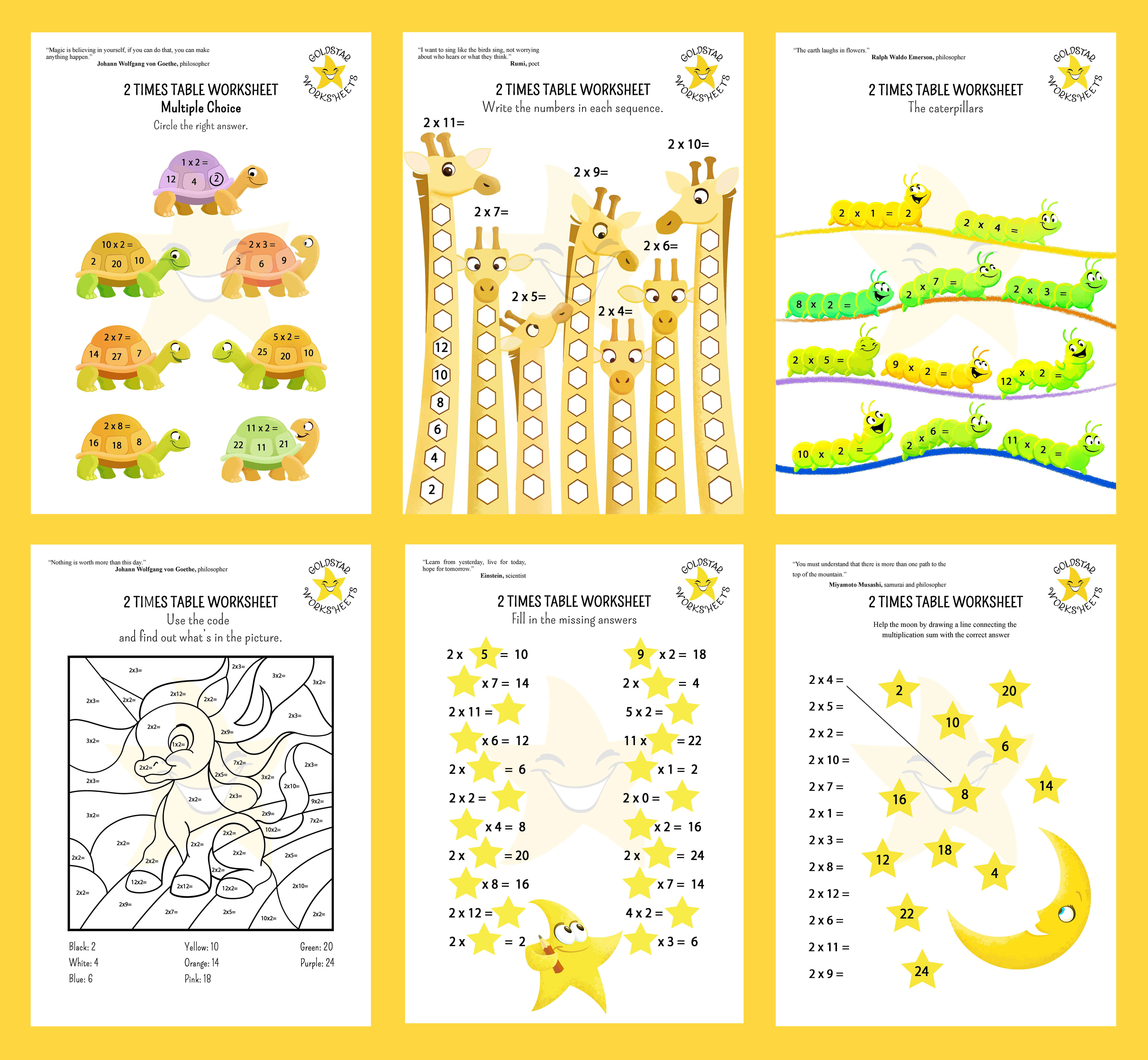 Order of worksheets
Matching worksheet - draw a line to stars with the correct product
Color by product worksheet - bring the picture to life 
Sequencing worksheet - multiply by writing numbers in a sequence (2, 4, 6, 8...)
Multiplication flowers
Multiple choice times table questions (on tortoises)
Times table problems on caterpillars 
Frog jumping on multiples of 2
Fill in the missing answers
Lists of problems worksheets - mixed and un-mixed 
After the 2 times tables usually comes the 5 times table or 10 times table. How about saving our 5 times table worksheets and 10 times table worksheets for later? 
1. Matching Worksheet
In these multiplication questions your kids draw a line to match the sum with the answer. 
2. Color by Product Worksheet
This fun multiplication worksheet will challenge your children and at the same time have them create a beautiful picture. 
3. Sequencing Worksheet
One way of grasping multiplication is as writing numbers in a sequence. We've attempted to make this fun by using giraffes. 
4. Times Tables Flowers
Inspired by multiplication wheels and circles we created these times table flowers. We hope you like them. 
5. Multiple Choice 
You can get some more 2 times table practice in by printing out these multiple choice questions on tortoises.
6. Times Table Problems on Caterpillars
Looking for a fun way to answer some 2 times table questions? How about doing it with caterpillars?
7. Frog jumping on multiples of 2
More 2 times table fun! Help the froggy jump on the multiples of 2. A great way to get used to reciting the multiplication facts for 2.
8. Missing Answers - 2 Times Table Worksheet
One of the most challenging 2 times table worksheets, you can get to grips with your multiplication facts by working out what the missing answer is in the list of multiplication problems below. 
9. Basic Lists of Times Table Questions (non-mixed and mixed)
If you like these 2 times table worksheets, you might like...
Since you're doing the 2 times table and the next number to work on is usually 5 or 10, would you like to download or save for later our five times table worksheets or ten times table worksheets? 
Positive Psychology Question: What are you grateful for?
At Gold Star Worksheets our culture is shaped by the science of positive psychology, so you'll find research informed questions such as these throughout our site.
Let us know what you're grateful for and why in the comments below...
Do you want to go one step further and try doing the "what went well" gratitude exercise?  
---