1 times table worksheets - let's practice! 
The 1 times table worksheets below are all PDF, and are all 100% free
Hi! We hope you enjoy using the 1 times table worksheets below. These worksheets are typically used in 2nd or 3rd grade but each child is different, quicker is not necessarily better than slower, so we'll leave the timing to you.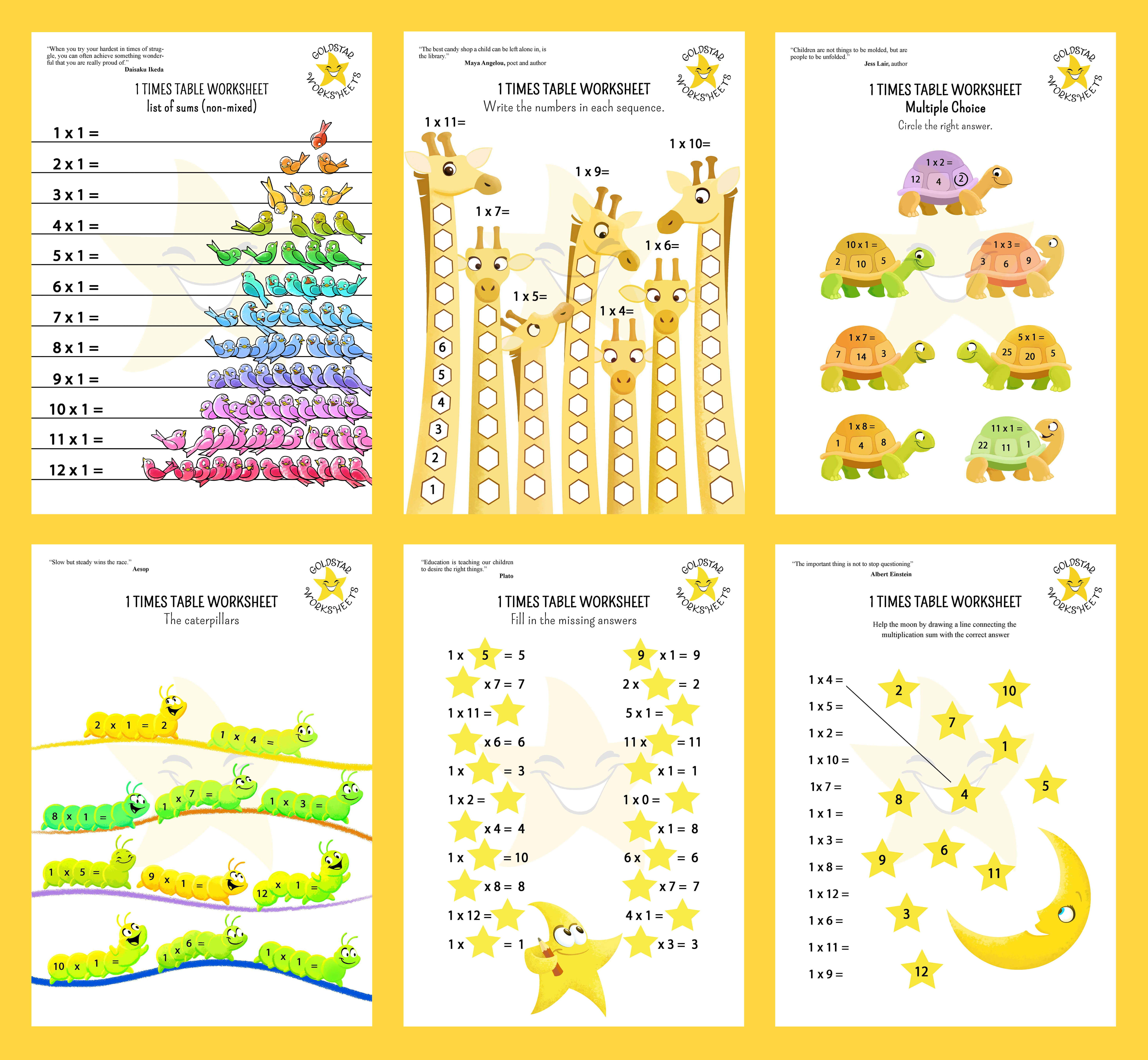 We hope that by engaging in times table learning from a variety of angles, your kids start to connect the dots, come to their own realisations, and grow to enjoy and become interested in elementary school math. There are a total of 9 different times tables worksheets below.
Order of worksheets
Connecting the sum with the answer with a line - for beginners (The moon one)
Color by product worksheet - Great time filler - Coloring
Multiplication by writing numbers in a sequence (The Giraffe one)
1 Times Table flowers - Bit more difficult worksheet
Multiplication sums on caterpillars
Missing answers  - A harder one 
List of sums with count the birds activity 
Basic list of sums - unjumbled and jumbled
1. Match the Problem with the Product
Can your students draw a line to match the multiplication problem with the correct product? 
This beginner worksheet is a great confidence builder before moving on to a more challenging one.
2. Color by Product Multiplication Activity
If you need a 1 times table worksheet that kills a good 30 mins giving your kids something really engaging to get stuck into this one is perfect! 
Loads of sums and some intricate coloring make this a great concentration holder. 
3. Learning Multiplication as a Sequence of Numbers
This worksheet is intended to help learners understand how multiplication works...
and it does this in a fun and interesting way with a tower of giraffes. 
4. Flower Times Table Worksheets
This is one of my all time favourite worksheets. Children use the petals of the flowers to practice their math skills.
What patterns will they spot?  
5. Multiple Choice
Choosing the correct product from three options makes this one of the easier worksheets... Perfect for beginners to the times tables.
Students simply circle the right answer. 
6. Caterpillars
7. Missing answers
This 1 times table worksheet is slightly more challenging. It fosters new thinking about multiplication. 
8. Count the birds 
Help your little ones become familiar with multiplication through counting the birds. 
9. Lists of sums 
Learning the times tables - How and Why?
If you're teaching your children the 1 times tables there are plenty of ways you can go about helping them become familiar... lots of learning tools you can use... songs, videos, chanting, games, competitions, charts, quizzes...
It's a good idea to try and use concrete items when first starting out so children can see the idea of a group of items. 
Children will realise many things on their journey. That 1x3 is the same as 1+1+1 known as repeated addition. That 1x3 and 3x1 are the same. Eventually the way that multiplication and division are inversely connected. 
What are your goals in times table teaching?
What are your goals when teaching? perfect recall? memorization? understanding? an enjoyable learning experience? personal growth? more familiarity with how numbers interact? There are so many things you could be hoping to foster and see develop...
And what are some of the positive purposes of learning basic multiplication?  
We know for example, that being able to instantly solve basic math problems means more brain space is freed up when up against more challenging math like long division and fractions for example... Math is like an unfolding web of connection. Everything that is learnt seems to link to something else. 
Times Tables in everyday Life
...and how about in real everyday life? How many moments can you spot in your day where you feel grateful you know your times tables? While shopping and working out the cost? While cooking for 4 and working out the weights? Counting things quickly? Can this be harnessed? 
If math is abstract and it feels like the only meaning is to be able to answer the question and get better that's a good start but there might be a lot of untapped motivation waiting to be awoken. Is it possible to show your children how it's going to be good for them in real life? So they really feel that WANT to learn? How about the opportunities it might give them? 
If you liked this... you might like...
After these 1 times table worksheets, the next one up, often done at the same time, is the 2 times table, then the 5 and 10 times table. Get prepared for the next step and download some more free resources today. 
---