10 Times Table Worksheets
Free and Fun 10 times table worksheets for Kids in Grade 2 and 3 
These printable 10 times table worksheets are designed to make math fun 
The 10 times table worksheets have a variety of different tasks for your kids to work on.
Maybe you're doing this in grade 2, 3, or sometimes 4? Whenever you decide it's time for the ten times tables we have lots of free multiplication resources to make your life easier.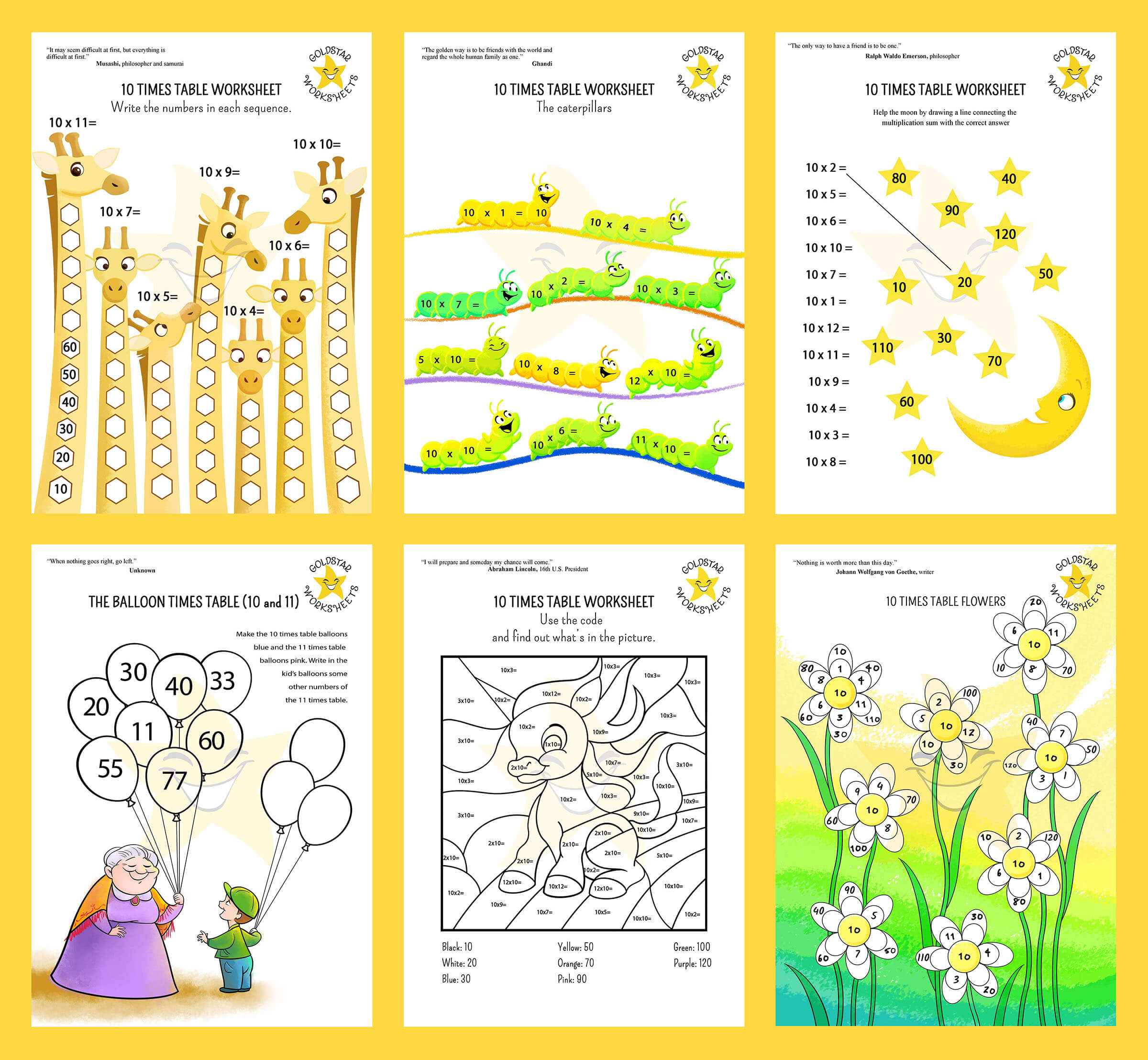 The ten multiplication facts tend to be one of the quicker and easier ones. Next up it can get a bit more challenging! 3 and 4 times tables are next in the majority of schools. As you're planning, you might want to download some 3 times table worksheets and 4 times table worksheets?
You have 9 different printables here for you to come back and practice again and again. 
All our math sheets are free and available in PDF. Enjoy! 
Order of worksheets
Moon and stars - Connect the sum and answer
Color by number 10 times table activity
Giraffe's - Multiplication as a sequence of numbers
Times table flowers
Multiple choice worksheet
Sums on caterpillars
Froggy activity 
Missing answers worksheet
List of 10 times table problems 
1. The Moon and the Stars
Helping the moon will add a bit of enjoyment to this math exercise. Students draw a line, just like the example, to the correct answer.
2. Color by number printable activity
If your little ones like coloring this worksheet will keep them busy and will also get them motivated to learn their 10 times tables. 
3. Multiplication as a sequence
10, 20, 30... Another great way to grasp times tables are by writing the multiples of 10. The Giraffe's should add a little bit of fun to this learning. 
4. Colorful Flowers Worksheet
Some more multiplication problems for your students here, this time in a beautiful garden with flowers.
5. Multiple Choice Exercise
If your kids are new to their 10 times table and are still familiarising themselves, this might be a good starter worksheet. They choose the answer from 3 options.
6. Caterpillar 10 times table problems 
Would you children like our smiley caterpillars? More math problems done in a fun way with this 10 times table worksheets made for curious kids.
7. Frog multiplication worksheet
Can your little ones find the lily pad path jumping on all the multiples of ten?
8. Missing answers exercise
Lots more math problems here on the 10 times table. Children are encouraged to fill in the missing answers. 
9. More multiplication practice
Did you like these? You might also like the next recommended times table...
Positive Psychology Corner
Describe a time when you were at your best
What did you like about it 
10 Times Table Worksheets
---